Brownsville Center
2505-2695 N.W. 54th Street, Miami, Florida 33142
(Latitude: 25°: 49': 26" Longitude: -80°: 14': 19")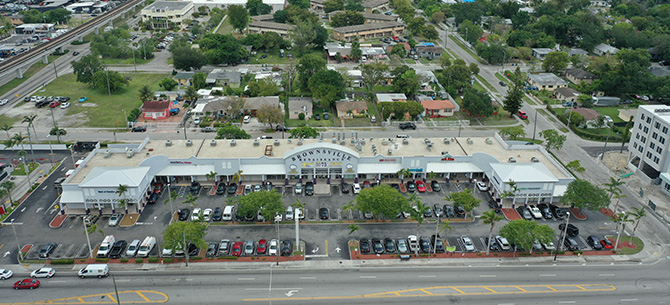 GLA: 33,404 sq. ft.
Location: N/E/C of N.W. 54th Street & N.W. 27th Ave. Directly across from the Dr. Martin Luther King Jr. Metro Rail Station.
Parking: 5:1 Ratio (approx. 125 Spaces)
Traffic Count: 30,000 VPD (NW 27th Ave.) 19,500 VPD (NW 54th Street)
Tenants: Checkers, Bank of America, Spin Cycle, Miami Auto Tag Agency, Papa Johns, Jackson Hewitt Tax Service, 99c Store
Available: 1,100 SF inline space
Highlights:
Located in an Opportunity Zone. Current Property is located within a dense residential neighborhood with limited commercial retail opportunities. Great access to local transportation hubs including Metro Rail & Metro Bus.